We've been working with a quite a few organisational leadership teams in the first half of 2021, running away-days to help them review, reflect, re-set and re-focus after the challenges they faced in the 2020 Covid pandemic. It's reminded us of just how important it is to get your team away from the office, especially leadership teams, so we wanted to share why we think now is absolutely the perfect time to book in your leadership team away-day.
During the last six months we have found that we get the same feedback, over and over again, from the leadership teams we've worked with:
How useful it was to get away from the office (be that your virtual one at home or indeed your organisation's office now).
How good it was to have some time for reflection and how it helped them to re-gain perspective.
How important it was to reconnect properly as a leadership team and remind themselves how much they have in common – the goals they share.
How they felt re-charged as leaders and how the day away really had re-invigorated the team spirit.
How it helped to give a renewed focus and set clear priorities for the year ahead – a chance to re-set after the difficult year they'd had.
We take that as pretty positive feedback, and of course we love doing these away-days, because it's absolutely part of our purpose and mission at Meta to help support leaders to be at their best, no matter what sector or organisation they come from.
Yet so few leadership teams give themselves that time away from the office. Why?
Simply put, most feel there just isn't enough time to go away for a day, there's too much to be done and not enough time, so how can you possibly justify taking your leadership team away for a day?
There is no doubt that 2020 was a trial by fire for leaders of organisations. There is no 'handbook for dealing with a pandemic' in most organisations' risk analysis and so, as many of our leadership confided in us, most were making it up as they went along, doing the best they could to make things work in incredibly challenging and ever-changing situations. Every leader we've talked to said they'd used pretty much every tool in their leadership toolkit to try and get themselves, their staff and their organisation through the unprecedented, unrelenting, non-stop challenges that Covid brought.
And you know what? In our opinion, you've all done an AMAZING JOB! We have been astounded by the incredible resilience of the leaders that we know in our Meta network, and we've been so impressed by how you've got through this. You made it, you got through – sometimes by the seat of your pants admittedly, but by gosh you DID IT. You should be incredibly proud of all that you've achieved in the last 18 months and you absolutely deserve to celebrate now we're starting to come out the other side of the Covid tunnel.
But of course the world of work doesn't stop, and indeed the pressures and demands that were put on you before and during the pandemic haven't gone away. Many of you had to postpone work or projects because of Covid, and now you're having to play catch-up and get the organisation back to where it should be. The simple fact is, the rest of 2021 is likely to be as challenging as 2020 for the leaders in organisations because, although we are nearly through the tunnel, Covid will continue to cast its long shadow.
As a result most of you are still running on empty. You gave 100% and more to get things done and, frankly, now there's not much left to give. Sure, finally you're starting to take the holidays you never had in 2020 and yes, you are managing to re-fill your fuel tanks with your week-long stay-cations. However there's still a way to go and most leaders I know feel that they're not able to give as much as they'd like to, and know they're not being as effective or performing at the level they'd like to be.
That's where an away-day really does pay dividends – it really is worth your investment of time. Getting away from the office, literally physically moving away, helps you to get more perspective, get out of the detail (or 'out of the weeds' as one leader expressed it to us recently) and reconnect to the broader vision. It's a chance to think more strategically, be less re-active and more pro-active. You can identify what really should be a priority, what needs to be done and when (as a leadership team) rather than just doing things (as individual leaders) because it's the next urgent thing that comes across your desk.
This is why it's so important for leadership teams to get away from the office: to re-gain perspective, re-set priorities, identify potential obstacles and issues that may lie ahead and do a real RE-SET of what really matters and what really needs to be done.
Even just one day away (when properly facilitated), can make a world of difference. It helps remind you that you ARE a leadership TEAM (not just a bunch of individual leaders all trying their best but ultimately not really being a team) and that actually you have a shared vision for how you'd like things to be. There's a reason you're working where you are, and there's a reason why you got to the leadership level you have. One of the great joys of facilitating such days is that we can help remind the leadership team just how much they have in common. How they want the same things, share the same fears, have similar issues, and how between them they have enough knowledge and combined wisdom to sort out pretty much ANY ISSUE that comes their way, and THAT TOGETHER THEY ARE ALWAYS STRONGER.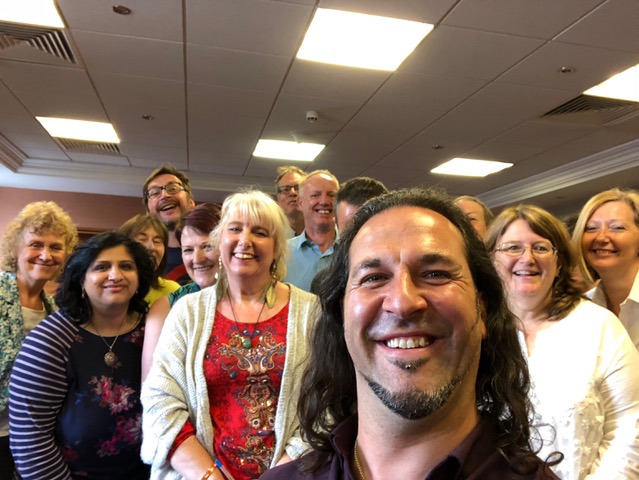 It's not easy being at the top. It can be lonely, with everyone looking to you for the answers, for direction, for inspiration. It's not easy being part of a leadership team either – no-one really teaches you how to work together at the top table. This is made even harder when you've been working through one of the most stressful experiences for many generations! However you DID make it through and we think that now, as the return to the office begins in real earnest, and the new hybrid models of working begin to be implemented, is a really GREAT time to take time out for you as a leadership team.
You've given everything to your organisation to get through this Covid pandemic, so we would encourage you to give a little something to yourselves. Not because it's a nice thing to do, or the right thing to do (although both are true), but because your business, your organisation, your share-holders and your staff NEED YOU TO – it makes sound business sense to. Now, more than ever, you need to be firing on all cylinders, you need to be strategic, future focused and working effectively, not only as individual leaders but also together as a leadership team.
If you are to make your post-Covid leadership recovery quick and relatively painless, you need to be able to up your game, not just as an individual leader but as a leadership team too. It's about further developing your way of working together, using the Covid experience as a truly great opportunity to grow and learn and be the best leadership team you can be. That can't be done at the office with everything else that needs to done, you need to get away, you need… to have an away-day.
In just one away-day you can re-view the Covid period, reflect on your successes and learn from your Covid experience, re-connect as a leadership team, re-focus on the year ahead, re-invigorate the team spirit, re-prioritise and have a complete re-set. It's amazing what you can achieve – one day really does get you RE-SULTS.

So then the question becomes – why the heck WOULDN'T YOU?
We've been facilitating leadership team and team away-days for over 20 years (and Di has been doing this for over 35 years!). We know how to get the most out of your time away, making it practically useful and ensuring that you get the outcomes YOU want from it – it really is amazing what you can get done in just one day. We also do it in the 'Meta way', which means not only will you have a lot to take away from the day, but you'll also have had fun and enjoyed yourself along the way.
Why not use this blog as the excuse to prompt your boss, your CEO, or your director to start thinking about getting your leadership team away-day organised. Or if you ARE ONE of those bosses, senior leaders, directors or CEOs or CFOs then get in touch and give your leadership team an away-day to remember.
On Tuesday this very week, we did an away-day with the senior leadership team of a manufacturing organisation, we asked the leader if he'd give us a few words of how the day had impacted him and his team – this is what he sent us:
"Today we had a day as a leadership team where we focused on how to be an excellent team which was facilitated by Jo from Meta. It is my belief that people can do anything they set their minds to, so when a collective team are all focused on how they want to work together, then targets will almost certainly be surpassed. Having worked with Jo and Meta a number of times over the years, this was another great day where he was able to stretch the thinking of the team in a positive and engaging manner that left everyone extremely motivated and wanting to deliver more together. If you want to be part of and lead excellent teams I cannot recommend Jo highly enough to help support you on that continuous improvement journey." – Simon Coss, Fauretia.
Have a wonderful rest of your month and we look forward to working with you and your team soon!
In peace, Jo and Di xx