Di Kamp is Founder and Leadership Director of Meta. She is a well-respected and established author, and is considered an expert in the field of business excellence. She has been researching and writing about business psychology, leadership, training, teamwork and people skills for the last 30 years, contributing to a large number of books and publications over this time; and all on topics associated with the organisational work which Meta undertakes.
Di's latest book, 'It's Not Rocket Science: A Blueprint for a Sustainably Successful Organisation', distils all of her amassed wisdom and expertise into a brilliant, if irreverent, humdinger of a read – a must-read for any serious leader out there.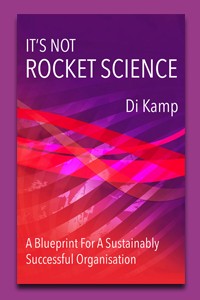 Di says: "I am just fascinated by the simple ways in which we can enable organisations and leaders to give their best. I love helping leaders to fully grow into their role, and assisting organisations to develop their people into creative, high-performing teams. I believe work should be something people love doing, not just something they have to do; and we all have an inherent excellence which can be brought out."
All the books Di has written are available direct from Meta, so if you'd like a copy of one of her books, please get in touch with us via the contact us page.