The new year is upon us, and yet it feels very much like just a continuation of 2020 doesn't it? Back in lockdown, back having our lives dictated to us, our freedoms suppressed, change forced upon us, things feeling out of our control.
It may be a bit depressing, but there is good reason for it: there is no doubt that we are at a very challenging time in this COVID crisis. We're near the top of the mountain, we can see the top but it's often that last stretch which can be the most difficult and demanding. We've done the hard work; we can see the end in sight and that's when our guard can slip and the last few steps can become a real struggle.
I remember being with my dad on one of our many trips together to climb Snowdon in North Wales. He was a youth leader and a keen mountain-walker. He was always prepared for every eventuality as he climbed a mountain. In his backpack he had a tent, sleeping bag, emergency supplies of food, waterproofs, a little stove and a first aid kit. He never underestimated the mountain, and there is no doubt that, as a 9 or 10 year old, there was a point in the climb where a handful of nuts and raisins or a dextrose tablet (magic energy booster) were like manna from heaven, the little extra boost needed to get to the top.
It's a strange story to share it might seem, but a valid one, I think – we're near the (COVID) mountain top, but it's not yet in reach and we've run out of gas, we're running on empty. It's been one heck of a climb to get to where we have, it's been a struggle – let's be honest here, it's been so challenging to get up to this point, so how do we get ourselves to the top? How do we keep ourselves driving onwards and upwards when our legs have had enough of climbing? How do we catch our breath and fuel ourselves to continue this arduous journey to the summit?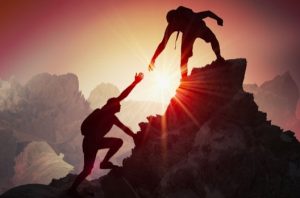 I think it's time to say THANK YOU.
Odd thing to say – but actually a THANK YOU goes a very long way. Back it up with action, and a thank you can be transformatory, it can be healing and it can be energising.
It can be a PERSONAL thank you, to those who have helped you through this year. Who do you need to thank? A friend? A work colleague? A family member? A loved one? Who has been the rock to you? Who has been there for you during this last year? One of the loveliest things to receive (and I know this from my own experience) is a little note or card or email or text or WhatsApp message that says:
"THANK YOU for being you", or "THANK YOU for being my friend".
It's not hard, but right now there is someone who is in need of a thank you, of your thanks, of your GRATITUDE – so why not use this prompt to send them that little something?
We all have things to be grateful for, and when things are bleak, when things are tough, it's important to remind yourself of just how much you have to be grateful for, and to thank those who have been gracious, kind and supportive to you. As I've mentioned in the last posted blog, kindness is infectious, so spread a little kindness and give a little thank you to someone who you are grateful to.
That's the personal thank you – but this is a business blog, written by a business consultancy, it's about business best practice, it's about excellence in action, in organisations. So now let's talk to you organisational leaders out there, those who have teams and line manage people.
We have a very diverse Meta family – we are unusual in that we work in all sectors (corporate, public and third non-profit/charity) and with all kinds of sizes of organisations (from 10s-1000s of staff). We work with all levels of managers and leaders, from team leaders, to shift managers, to directors, executive directors, CFOs and CEOs. So, over the last year we've heard many different approaches to the pandemic and working practices. There's been some AMAZING practice (I'd like especially single out CRISIS, SQUARED and BDHT here as organisations who have been AMAZINGLY supportive and appreciative of their staff and that it's been our pleasure to work with).
We've also heard of organisations (mostly in the corporate sector if we're honest here) who have carried on pretty much as though it's business as usual, treating staff (who have been home-working, home-schooling and coping with the rather large challenges we've all been facing during this crisis) as resources rather than human beings. Restructuring, putting people at risk of redundancy, carrying on major projects that maybe could have been put on hold.
Now we understand that business must carry on. It doesn't stop because there's a pandemic going on and, at the same time, an acknowledgement of the human side of things is incredibly important, and will ensure the loyalty, and dedication of your staff. We're ALL struggling, whatever your level within an organisation – we see an end in sight, but how do we get there when we're running on empty?
The good news is that it's not too late. As leaders we have tremendous power and a little can go a long way indeed. Remember that handful of nuts and raisins my dad would dish out as I thought the mountain path would never end? The dextrose tablet for those last 100 yards to the top of the mountain? Well, the organisational equivalent is a THANK YOU – a heartfelt thank you can make all the difference.
Has your organisation THANKED its staff? I mean REALLY THANKED its staff for helping the organisation to make it through last year? Even if your organisation hasn't been particularly vocal about it, YOU can, as a manager or leader of people.
The new year is a great time to hit refresh, to start again, to set the tone for what is to come. It's a great time to put behind us things that need to be put behind us and focus on the what next, what is to come. It's a great time to say THANK YOU and to help lift the spirits of your staff to cope with the coming 3-6 months of uncertainty.
Right now your staff will be struggling, like the 10 year old me near the top of Snowdon. They need a boost, some motivation to keep doing the work that they need to do. So now is the time to really THANK them for all that they have done – and do it in a way that will stick in their memory, will really energise and delight them.
So spend time TODAY to think about how you can THANK your staff. Be you someone who has one person in their team, a whole directorate or a whole organisation – how can you really say a BIG THANK YOU?
Most people just want to be appreciated and valued for the work they do. They don't need big gestures, small ones will do, but it needs to be genuine and heartfelt.
Let's be honest here, there is no doubt that, without your staff doing what needs to be done, your organisation would not have got through the year as well as it has. This pandemic has been an unprecedented event – no-one leading an organisation has ever been through something like this, and so there has been extra pressure, extra demands put on both leaders and staff to just get through this as safely and securely as possible. It's been a mountain to climb and, if we're honest, many of us have been winging it as we go along, but now we're through the worst of it (hopefully) so this is a good time to stop and say THANK YOU.
Have a think – get creative with your THANK YOUs, make your THANK YOU memorable and fun. Perhaps it's time to do a silly awards ceremony, or to break out the virtual coffee and doughnuts. Is it time to give everyone a voucher as an appreciation of their efforts? Or how about this? If your organisation or team has had to work all the way through this pandemic, how about giving them a long weekend? Or an extra holiday day? If you can't give it now, then give it in lieu to be used when work schedules allow? How about doing a Friday afternoon virtual pub quiz with real awards? How about having a virtual lunch? Or giving everyone an extra-long lunch break one day?
I remember, many years ago, I worked in the West End (of London) for NEXT. I was a deputy manager of the menswear floor in the Regent Street store. I don't know if you remember, but NEXT was famous for its Boxing Day sales. All the stock would be 50% off or more – everyone went to the NEXT SALES.
I can remember sitting on the number 30 bus going into work at 4:30am on the first day of sales, and knowing that the people who were on the bus with me were probably headed to one of our NEXT stores to start queueing!
The downside of having a sale so quickly after Christmas was that all the SALES preparations had to happen in the run up to Christmas (as if Christmas wasn't busy enough!). As a manager I was expected to stay behind to finish up the prep. It was Christmas Eve, and I'd been working all day – it's fair to say that I was pretty annoyed by the time it was dinner time. I'd been working for hours and, although the end was in sight, I'd lost all motivation and was getting rather irritable and grumpy. To top it all off, our manager had buggered off somewhere – he hadn't been seen for nearly an hour, and the 'minions' had been left to do the hard graft – that's how it felt anyway.
Then there was a knock on the stockroom door. We could see our manager's face through the small window. As we opened the door, the waft of fresh cooked takeaway pizza hit our nostrils, and from behind his back he pulled out a plastic bag full of cans of beer.
Our manager sat us all down in a circle, and said a heartfelt personalised 'THANK YOU' to each one of us that was left. As we sat and scoffed the pizza, and drank our well-earned beer, all grumpiness had disappeared. We laughed, we shared jokes, turned the music up in the stockroom and cracked on with the remaining sale stock prep. I didn't get home until about 10pm that Christmas Eve, but I didn't go home angry, I went home happy, content at a good job well done, and knowing that all my hard work was appreciated and valued.
My manager wasn't an amazing manager, but he did something that I never forgot that day. He reminded me how important, healing, restorative and transformative a simple THANK YOU, followed up with ACTION (the pizza and beer) can be.
NOW IS THE TIME FOR US ALL TO SAY THANK YOU – and follow that up with an ACTION. How you do that is up to you, but it's important to start 2021 with an acknowledgement of just how much you value and appreciate your people.
Let me start us all off – I want to say THANK YOU, to all of you in our Meta family. Thanks for being there, thanks for doing the wonderful work that so many of you do.
It's been a tough year for us here at Meta, but there are many of you (you know who you are) who have offered me personal support and words of encouragement this year, and I want to say a HEARTFELT THANK YOU to you all – it has been so appreciated and often just what I needed when you gave it.
And, every one of you who is reading this deserves to be THANKED just for getting through this last year – it's been a bugger to put it mildly, but you made it, and that is something to be celebrated too!
Together I believe we will make the top of the mountain, and get down safely again. TOGETHER we are ALWAYS STRONGER – TOGETHER WE CAN ACHIEVE ALMOST ANYTHING.
Wishing you all a much better 2021!
In peace and love,
Jo xxx