There's almost always something going on in the Meta Family, and this is where you'll find all you need to know about the Events we have coming up in 2018.
IF you'd like to know more about the events or register your interest, please contact us@  jo@metapositive.com
JOURNEY TO MASTERY – MASTERCLASS OCTOBER 18TH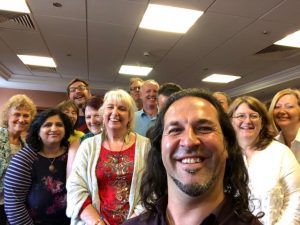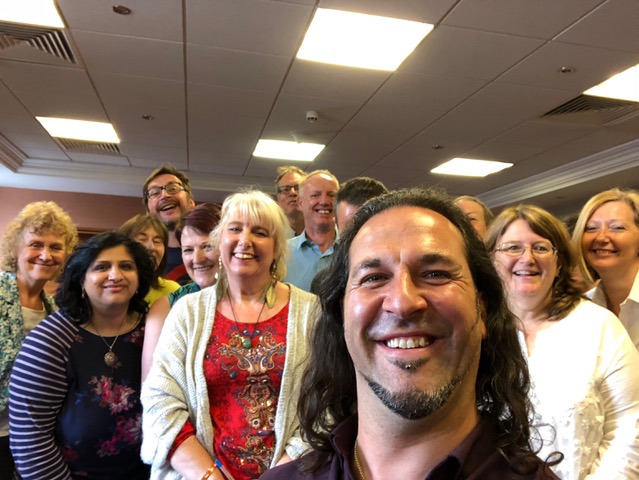 Our next Masterclass is on October 18th and is an excellent chance to catch up and brush up on your skills learned during our Journey to Mastery programme. It's also a great opportunity to meet up with other lovely people on the same journey – as can be seen from this happy photo of Jo with all the smiling faces from our last Masterclass event.
Contact jo@metapositive.com to find out more about our October event and the dates for our 2019 JtoM programme!
THE NEXT META LEADERSHIP NETWORK DATE IS NOVEMBER 15th: Where leaders can share, learn and speak their truth
Meta has created a new kind of leadership network, one where leaders from all sectors can share and speak their truth.
Today many leaders feel that they are not leading as they'd like to.  They are so caught in the day-to-day and busyness of their organisations that they don't get the chance to be the leader they want to be.
This is an opportunity for all leaders in our Meta network to come together and share their experiences, tell their truths, and help each other to overcome the common obstacles they face.
Each network meeting, facilitated by Meta's Di Kamp and Jo Clarkson will be around a theme and all leaders attending will be able to share their good practice and develop their own leadership skills in a structured interactive half-day workshop.
The aim is to develop a mutually supportive network/environment where leaders can speak openly, share best practice, and learn how to thrive in today's challenging organisational workplace.
NEXT LEADERSHIP NETWORK EVENT:
 WHO WANTS TO BE A LEADER? – Exploring the challenges of being a leader today
In this network event we'll be focussing on the challenges that leaders face today. It gives everyone who attends an opportunity to share their own experiences of trying to be leaders in the organisations they are in. Is it easy being a leader in today's workplace? Does your organisation want you to be a leader? Are you rewarded and appreciated for being a leader and showing leadership traits? Do you have the time or the capacity to do the things you'd like to do as a leader? Can you be the leader you'd like to be? And if not, what needs to change?
 PRACTICAL DETAILS:
DATE : NOVEMBER 15th
TIMING: 1pm coffee for prompt 1.15pm start – finish 4.30pm latest
VENUE: TBC – events are to be hosted by leaders
COST: 1st network event £FREE – £100+VAT per leader per event after that
TO REGISTER: Contact  di@metapositive.com
JOURNEY TO MASTERY – AWAKENING 2018
Journey to Mastery is our flagship 8-day professional-development programme. Run over a 6-month period, this programme is based on NLP and gives you valuable tools and techniques to tap into your own excellence and realise your own potential in both your work and home life.
The programme will give every attendee tools that will enhance their professional life and will be immediately useful back in the workplace.
We are half way through this year's programme, which started in April. Watch this space for future programmes and see the video below for a lovely testimonial!
The programme has touched the lives of many people, and organisations that have sent their staff on it. It's a programme that really does transform people's lives. Just watch this video testimonial for yourselves and find out what previous attendees have to say about their Journey to Mastery experience.
Interested in what you've seen?  Get in touch with us now at jo@metapositive.com to find out more.