So what's been going on in the Meta world this month and what's coming next?
Here you will find news about what we've been up to and what we have planned for the coming months.  Remember to also check out our Blog for our latest articles and our Events page for forthcoming dates and more information on our training programmes.
DATE FOR YOUR DIARY: NEXT LEADERSHIP NETWORK SET FOR MARCH 8TH 2018
The next leadership network event is on March 8th. It is on the topic of influencing  – something we all need to use as part of our leadership skills. It will be held at Bromsgrove District Housing Trust (bdht) in Bromsgrove, Worcestershire. Do get in touch with di@metapositive.com if you would like to find out more and secure your place today.
DATE FOR YOUR DIARY: WANT TO TAKE YOUR LEARNING TO THE NEXT LEVEL? JOIN US FOR OUR FLAGSHIP JOURNEY TO MASTERY PROGRAMME (LATE MARCH 2018)
When you get to a certain phase in your career, it's difficult to know where to turn for more professional development. You've got the business degree, you've been on so many leadership courses you've lost count, you've done the MBA… but you're still looking to take your learning to the next level. So where do you go to find what you need when you are a busy executive, enlightened leader, dynamic director or inspiring CEO?
At Meta we've spent 14 years researching, designing, creating and refining our Journey to Mastery professional development programme. Based on the study of excellence, this 8-day programme, with built in 1-1 support, will help transform your work and personal life, helping you to become the leader and person you always wanted to be.
This practical and inspirational programme will give you more than 70 tools for your leadership toolkit and toolkit for life. If you love to be challenged and stretched and want to learn how to truly excel, then we're looking for leaders like you!
We're currently enrolling for our Journey to Mastery – Awakening programme due to start at the end of March. Contact Jo, our CEO and Journey to Mastery lead, at jo@metapositive.com or download our PDF brochure 2018-Journey to Mastery-full info to find out more and secure your place today.
NEWS – DECEMBER 2017: A BIG THANK YOU! META @ DELOITTE SSC, GBS & BPO CONFERENCE (VIENNA)
Thanks to everyone who came to our workshop on 'Creating the [Brain] Capacity to Lead' at the Deloitte Global Shared Services Conference in Vienna at the end of November 2017. It was such a wonderful experience, and it was so lovely so share our 'working smarter tools' at such a prestigious event. We'd like to personally thank the organisers for allowing us to take part; and thank all the leaders who joined us for our break-out session, for their willingness to join in, and their amazing feedback. Here's a couple of photos of Jo in action!
NEWS – NOVEMBER 2017: LAUNCH OF NEW JOURNEY TO MASTERY PROGRAMME FOR 2018
Our flagship personal and professional development programme, 'Journey to Mastery', starts on March 22nd 2018 . JtoM is a magical programme – not only does it give you a tremendous NLP toolkit to use at both work and at home, but is also a truly transformational experience for those who come along and take part. We'd love for you to join us! Contact Jo for more more information at jo@metapositive.com.
SEPTEMBER – Last JtoM MASTERCLASS of 2017
"Working Smarter Not Harder" – tools and techniques for thriving in challenging times
Over the last couple of years been researching the topic of 'Working Smarter Not Harder', the science and study of working (and living) in a more natural, sustainable and excellent way. We have found that people who take part in our 'working smarter not harder' development days get a huge amount from it, so we thought it was time to share that research and combine it with some NLP techniques so that our Masterclass family can benefit from it too. You will come away from the day with some really valuable insights into how your brain works and great practical tools that will make a real difference to how work and life feels!
Our final Masterclass of 2017 will be held on October 18th at the Cheltenham Chase hotel.
JULY – META LEADERSHIP NETWORK – great success!
In July we held the second Meta Leadership Network event, nearly 20 leaders from all sectors gathered together to share best practice, tell their truth and help each other with the common obstacles that they all face. The theme was 'creating the capacity to lead' and centred around how as leaders they can work in a smarter way that makes the most of their own capacity. It was a great success with amazing feedback from participants on the day. It's proving to be a very powerful, popular and useful network for those that attend, and so we'd like to invite you to join us, just get in touch for more details.
META CUSTOMER – BDHT ANNOUNCED NUMBER 1 COMPANY in "GREAT PLACES TO WORK"
There are certain organisations that we have worked with over the years that we are very fond of. One such is BDHT (Bromsgrove District Housing Trust) which we worked with extensively in 2014/15 when they were in the Sunday Times Top 100 places to work competition where they reached number 4 and have continued to work with them ever since. Just recently BDHT won the amazing accolade of being NUMBER 1 in the "GREAT PLACES TO WORK" competition. There are very few organisations that truly live their values and want to continuously improve themselves. BDHT has created a culture of excellence that enables them to excel even in these challenging times in the Housing Sector – we wish to congratulate them for this well deserved award!
JUNE – NEW META VIDEO TESTIMONIAL –  BDHT – CHIEF EXECUTIVE MIKE BROWN 
We asked BDHT Chief Executive Mike Brown if he'd put a few words together on camera about the "Journey to Excellence" that we did in his organisation in 2014/2015 and what its lasting legacy has been. We are very proud of the work we have done with BDHT over the years if you'd like to get a feel for what Meta can do for you, then please do take a moment to watch the video.

MAY – META CONFIRMED FOR DELOITTE GLOBAL SHARED SERVICES CONFERENCE
We are delighted to announce that we have been invited to give a workshop at the Deloitte Shared Services Global Conference in November. During this two day conference held in the beautiful Austrian capital, Vienna, we will be offering a session on 'creating the (brain) capacity to lead'. This is a new exciting venture for Meta and for Deloitte who are extending their traditional conference offerings to do something new and innovative to support the top global leaders that this world renowned conference attracts.
NEW VIDEO TESTIMONIAL
In 2015 and 2016 we did an extensive leadership and staff development journey at Glasgow's Maryhill Housing Association. Last december Jo went back to see how everyone was getting on, one year on. The Chief Executive, Lynn Wassell was happy to give this glowing video testimonial of the work we did together – we're proud of the work we did at Maryhill and we're proud of all that those at Maryhill have done to carry on the wonderful work we did together!

Join us on the Journey to Mastery – enrolling now!
Our flagship personal and professional development programme Journey to Mastery starts on 26th January . JtoM is a magical programme, not only does it give you a tremendous NLP toolkit to use at work and at home but is a truly transformational experience for those that come on it. We'd love you to join us, here's what some of our previous attendees had to say about it..
  LINKEDIN ARTICLES
At Meta we are passionate about getting a different message about business and how to work out there. So every fortnight we post our own articles on our LINKEDIN page and we frequently re-post articles we feel that every busy executive, CEO or leader should read – we think it's time to start a debate about whether the way we work… is working! We think these articles will make you think! So come befriend us and follow us on LINKEDIN –
META ON FACEBOOK
We figured it was time to spread our wings into the world of social media and bring a bit of Meta-positivity to Facebook! The purpose is to post inspirational, positive messages and videos to remind people of the important things in life and work. We'll be renaming the last day of the week "FACEBOOK FRIDAYS" from now on, so if you'd like a positive end to your working week, something to make you smile and warm your heart then come like and befriend us
NEW META LEADERSHIP FOLDER NOW AVAILABLE

In response to customer requests we are delighted to announce we now have a brand new Leadership brochure. We have compiled our extensive leadership and leadership team development offerings into one NEW leadership folder. If you'd like to get a copy, and find out about our innovative and creative approach to leadership then you can either get in touch via the contact page to get a hard copy or download the PDF Version here:
NEW META STAFF DEVELOPMENT FOLDER NOW AVAILABLE
At Meta we have spent many years studying and researching excellence within teams. In this NEW staff development folder we have brought all our one-day team development offerings into one place. They are designed to be used in-house, either as stand-alone workshops for team away-days or as part of a more coherent organisational team development programme. If you would like to know more about Meta and what we can do for your team and organisation then get in touch via the contact page OR you can download your copy here:
ITS NOT ROCKET SCIENCE -THE  META BOOK!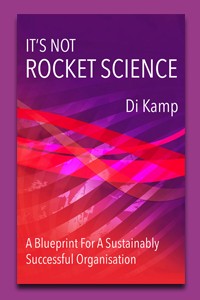 Di Kamp Meta's founder has written a business book. Called 'It's Not Rocket Science – a blueprint for a sustainably successful organisation', it distils all of her years of experience and wisdom into one very accessible and brilliant book. Her first book in over 10 years, it was launched in June. Available as both a paperback and an e-book, this book  highlights a more enlightened and evolved way of working, an A-Z of how businesses could and should be run – a must read for any leader.
You can buy the book from the Meta website store, or on Amazon Kindle.
You can buy the book on Amazon.
Have a great month everybody, and Happy New Year!
in peace,
Jo and Di xxx